Show 55 – September 2nd 2014 – 19:00-20:00
Tracklisting:
Fighting Bears – "This Air is All Gone" (N/A)
Cale Lane – "Embracer" (Morning Light)
Create To Inspire – "In Light" (Halfway Home)
Your New Favourite Band
Summon The Octopi – "Apricots Apricate (Alligators Alligate)" (Nonversations)
Maybeshewill – "Sanctuary" (Fair Youth)
Pick of the Month
Arms & The Man – "Welcome To Whore Island" (…Are Nothing But Animals)
Architects – "Colony Collapse" (Lost Forever // Lost Together)
Every Time I Die – "Decayin' With The Boys" (From Parts Unknown)
Local Band of the Month
Dissonance – "Cold Hearts" (Valves)
Pulled Apart By Horses – "Hello Men" (Blood)
__________________________________________________________________
That was a fun playlist, flipping things around a bit with some local heroes at the top of the show for a change.
On that note, our Local Band of the Month were Dissonance, from the Preston area. Previously in existence as As We Began, the guys switched things about a bit and re-grouped in their current form at the back-end of 2013. Guitarist, Jack Shaw joined us for a chat about their journey so far, and their debut EP – "Valves", which is out now and available through their BANDCAMP page. Look out for them hitting stages in Preston, Bolton and Liverpool in the upcoming months on some pretty big line-ups. Here's a video for a song not on the EP – debut track, "I/DEALS":
Your New Favourite Band were one-piece post-rock project, Summon The Octopi. Hailing from Berlin, Germany, Marc Vogler – the man behind the tentacles – releases the debut EP, "Nonversations" on November 17th through Sober Up Records. For now you can download "Apricots Apricate (Alligators Alligate)" for free HERE and check out the trippy video below.
I think I had to make Arms & The Man my Pick of the Month after the release of their ballsy new 3-track, "…Are Nothing But Animals" this week. You can pick it up from the Hitchin lads' BANDCAMP page now, but check out the new video to "Welcome To Whore Island" below first – the girl in the second half is simply mesmerising!
Fighting Bears were guests on the show back in July after winning their Battle of the Bands heat at "Where's Mavis?". We played a track on this show as they were in the Final that night. Unfortunately, in part due to a shortened set because of technical difficulties, they didn't win (congrats to Jekyll, who won first place). They recorded an awesome acoustic session for us, of which I have since uploaded this video of one of the tracks. Check it out (remember you can still download exclusive session tracks for free from our SESSIONS page).
We also featured a track from last years victors – Cale Lane, who returned to rock the foundations of Ships & Giggles once more on Finals night. The Wigan-based 6-piece are about to film their first music video, so make sure you pick up their EP, "Morning Light" in preparation. You get get it from BANDCAMP.
Create To Inspire were in Preston on Sunday at The Adelphi, and despite only a small crowd being in attendance, the Essex lads brought their "A" game. Their EP is out now for free (or whatever you'd like to pay) through BANDCAMP. Here's a video of them smashing the place up to a new song of theirs.
Loads of big tour news this last week, but the biggest has to be the new Architects UK/European tour next Spring, taking out Every Time I Die, Blessthefall and Counterparts in support. Architects are currently promoting current single, "Colony Collapse" (released on September 29th), whilst ETID have not long put out their latest LP, "From Parts Unknown". This tour is going to be massive. Get on board now. Check the dates.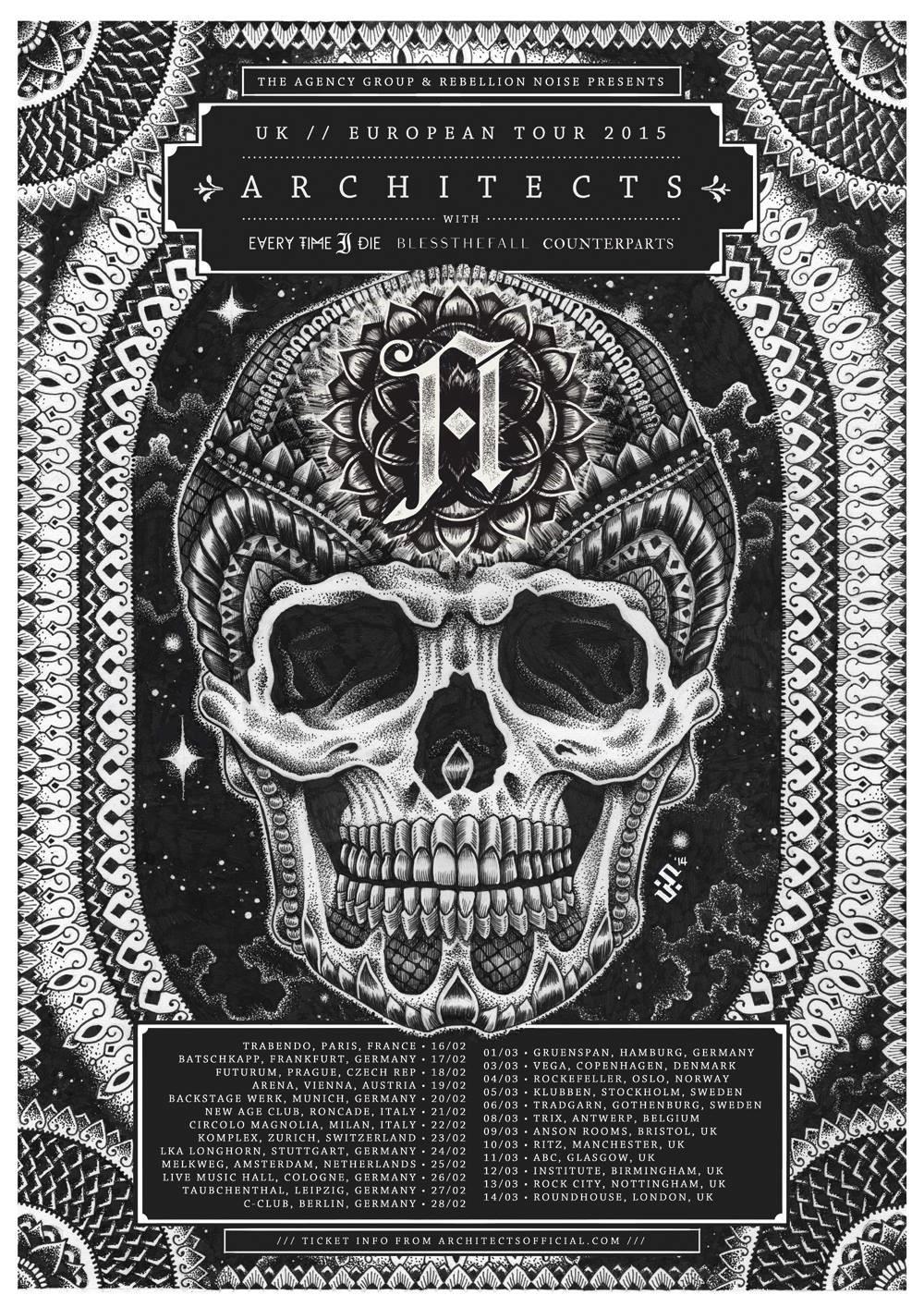 Pulled Apart By Horses put out their 3rd full-length, "Blood" this week, and seem to have taken their foot off the crazy bit for the majority of the album. Everything that made their frantic brand of alternative rock attractive has been toned down for record number three, possibly with the band thinking of the increasingly mainstream appearances they seem to be making these days (please see Main Stage at Leeds & Reading Festivals this year). "Hello Men" in particular reeks of tones reminiscent of The Cure and Dinosaur Jr, whereas the joyous non-sensical lyrics seem to have taken a back-seat in preference of actual songs. Nevertheless, there are still some decent tracks on there. This will doubtless be the album that breaks them into the mainstream field of modern rock music. Hopefully their beer hasn't gone off…
And July 25th saw the release of the 4th Maybeshewill record. "Fair Youth" is out now on Superball Music. The band are on tour now until the end of time (or at least December), so make sure you get down to a show. They're certainly giving you EVERY opportunity!

*An addition show at The Exchange, Bristol has since been added on December 11th.
That's all for now. Until next time…
-dan10k